Brenna & Matt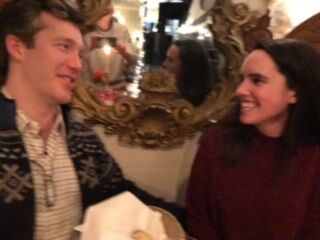 Thank you to our friends and family for making the trip to New York to celebrate.
St. Vincent Ferrer and the University Club are both special places to the Kelly and Sargent families. Brenna's parents were married at St. Vincent Ferrer in 1983, and Matt's parents had their wedding reception at the University Club over 32 years ago! Since we started dating in 2014, we've spent many days and nights at the U Club - playing backgammon, enjoying young members events on the 7th floor, and playing squash (Matt playing and Brenna cheering). We're looking forward to welcoming our friends and family to this special place that feels like our second (very large) home in NYC.
The Wedding
Saturday, November 9, 2019
3:30 PM
Attire: Black tie optional
Ceremony
Church of Saint Vincent Ferrer
869 Lexington Avenue, New York, NY, 10065, United States
Reception
The University Club of New York
1 W 54th St, New York, NY 10019, USA
*Please note that there is a short gap between the ceremony and reception.

Schedule
Welcome Drinks
Friday, November 8, 2019
8:00 PM
Papillon Bistro & Bar
Join us for a drink right across the street from the University Club as you get into town! Snacks and first drink or two on us (8:00 - 9:30 pm), but feel free to stay as long as you like as we've reserved the space on the second floor for our group. Casual attire. Please visit our "Things to Do" page for suggestions on where to have dinner prior to the welcome drinks.
The Big Day
Saturday, November 9, 2019
3:30 PM
Church of Saint Vincent Ferrer
869 Lexington Ave, New York, NY 10065, USA
Reception at the University Club to follow at 5:30 PM.
The Day After
Feel free to sleep in Sunday morning! If you're looking for activities in the city or a place to grab breakfast, head over to our "Things to Do" page.
For those staying at the University Club - they do a great Sunday brunch!